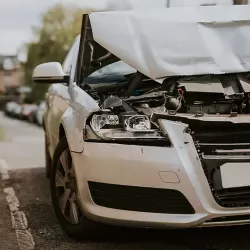 Sustaining a serious injury can be a stressful and traumatizing experience. When the source of your injury was someone else's negligence, the situation can become even more overwhelming. At the Law Office of Robert L. Ward, we are committed to pursuing justice on behalf of individuals who have had to endure injuries and damages at the hands of another party.
With more than 23 years of trial experience under his belt, our Cleburne personal injury lawyer knows what it takes to help a client obtain the amount of compensation they deserve.
Reasons to Choose our Personal Injury Firm
You don't pay us unless we win
We promptly respond to our clients
Free case consultations
23+ years of legal experience
Thousands of cases handled
A former prosecutor on your side
We will meet you wherever is most convenient for you
Working with Our Texas Injury Attorney
Filing a personal injury claim can be a complicated process, which is why it is essential to ensure that the legal team you are working with is experienced and well-versed in the field. There are a number of qualities that set us apart from other firms in our field.
Help from a Former Johnson County Prosecutor
If you retain our services, your case will never be handed off to an assistant or a paralegal. Rather, you will be working directly with Attorney Ward. As a former Johnson County prosecutor, our founder has the litigation skills and trial experience necessary to take on even the most complex personal injury cases. We tirelessly fight on our clients' behalf, and we are not afraid to go up against major insurance companies.
Cleburne lawyer Robert Ward is prepared to handle a variety of personal injury claims, including:
Heavy Truck & Semi-Trailer Accidents
We'll come to you!
We recognize that it can be difficult for an individual to make it to our Cleburne or Granbury office after they have sustained an injury. This is why we are willing to meet clients in the hospital or their home—wherever they feel most comfortable. In addition, our firm operates on a contingency fee basis. This means that you do not pay us anything unless we are able to help you obtain compensation.
We are proud to offer our clients complimentary case evaluations, during which we will discuss the details of their case and how we believe we can assist them. Regardless of what your situation entails, we will provide you with compassion, honesty, and trusted legal advocacy.